W
From Wait Till Your Father Gets Home to Worzel Gummage
Wacky Races : Just too damn bizarre this programme. Lots of cartoon characters you knew (and a load you didn't) racing each other. No trick was too much for Dick Dastardly, Boo Hiss.
The running order:
Peter Perfect - Turbo Terrific
Rock & Gravel (Slag Brothers) - Bouldermobile
Penelope Pitstop - Compact Pussycat
Ant Hill Mob - Bullet-proof Bomb
Dick Dastardly & Muttley - Mean Machine
Gruesome Twosome - Creepy Coupe
Rufus Ruffcut & Sawtooth - BuzzWagon
Sarge & Private Pinkley - Army Surplus Special
Professor Pat Pending - Convert-A-Car
Red Max - Crimson Haybailer
Luke & Blubber Bear - Arkansas Chug-A-Bug
Video - The Wacky Races
---
Wait Till Your Father Gets Home: A naff American cartoon, with a catchy theme tune. Featuring a plump, ugly girl with glasses who always was told to "wait 'till your Father gets home" by Mum.
I GOT MY MOM & DAD & MY BROTHER TOO
AND THE GROOVY WAY WE GET ALONG,
BUT EVERY TIME THE SLIGHTEST LITTLE THING GOES WRONG
MOM STARTS TO SING THIS FAMILIAR SONG
"JUST WAIT TILL YOUR FATHER GETS,UNTIL YOUR FATHER GETS,WAIT TILL YOUR FATHER GETS HOME"
---
Watch : Kids TV show similar to "Look and Read" but not as good.
---
Watch With Mother : The BBCs first stab at programme's for Children. The original line up was:
Monday : Picturebook, then Storytime
Tuesday :Andy Pandy
Wednesday : Bill and Ben
Thursday : Rag, Tag and Bobtail (later replaced by Tales of the Riverbank)
Friday : The Wooden Tops
---
We Are The Champions : Presented by the late Ron Pickering, this would take three schools and basically hold a sports day on TV. When introduced to the camera each kid had to give the thumbs up, very funny. At the end (by the pool) Ron would finish the programme with his customary "Away you go", and away they went.
---
Whacko : This was a series set in a boys' boarding school in thre 50's I think starring "Professor" Jimmy Edwards. One feature was that although it always came close no boy actually got the cane. Arthur Howard played Mr. Pettigrew the deputy head. There was A film spin-off.
---
Whirly Birds: Cant remember much about it other than there were helicopters and it was on Saturday morning
---
White Horses : The horses concerned were all Lipizaners, and the main characters were a horse called Boris, with his young lady owner called Julia.
Theme Tune - The rather pleasant White Horses Theme
---
Why Don't You : "Switch off your TV" they said, "Too bloody right" said we. This was awful, make this, join them, do that. There were gangs in London, Newcastle, Belfast, Bristol [who threatened to beat me up if I don't mention them], Glasgow and Cardiff [One e-mailer knows some of the Cardiff Gang]. A previous statement on this page said that each gang didn't know each other, well it appears that they did.
Another revaluation is that they didn't get paid!
Featured an animated TV that looked very bored by the whole proceedings.
WHY DON'T YOU
WHY DON'T YOU
WHY DON'T YOU,
JUST SWITCH OFF YOUR TELEVISION SET,
GO OUT AND DO SOMETHING LESS BORING INSTEAD.
SITTING AT HOME,
WATCHING TV,
TURN IT OFF,
NO GOOD TO ME,
WHY DON'T YOU,
WHY DON'T YOOOOOU,
GO, GO, GO!!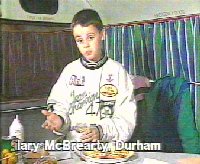 ---
Willo The Wisp : Kenneth Williams (Matron!) voiced this cracking cartoon. Cast of characters were:
Mavis Cruet the fairy
Arthur the caterpillar (very stupid as I recall)
Carwash the cat
The Moog.. the..er Moog
The Astronauts
The Bookworm
Twit.. the bird that flew backwards
Evil Edna - the television (makes a sound like crisp bags being crushed when casting spells)
| | | |
| --- | --- | --- |
| | | |